Introduction
Whenever you log in to DemandCenter, the Dashboard is the first thing that you will see. Each user has their own unique dashboard which they can customize without affecting other user accounts. Designed to help users navigate quickly to various parts of the application, the Dashboard is divided into four sections: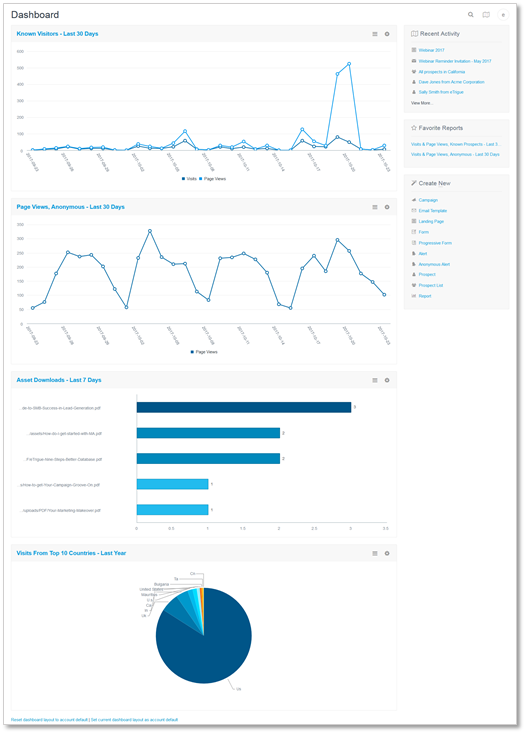 Reports
Within the center of the screen, you will find a series of report widgets which allow you to display a total of four reports at a time. Users have the ability to customize their Dashboard by selecting the reports that they would like shown and by rearranging the order in which they appear on screen.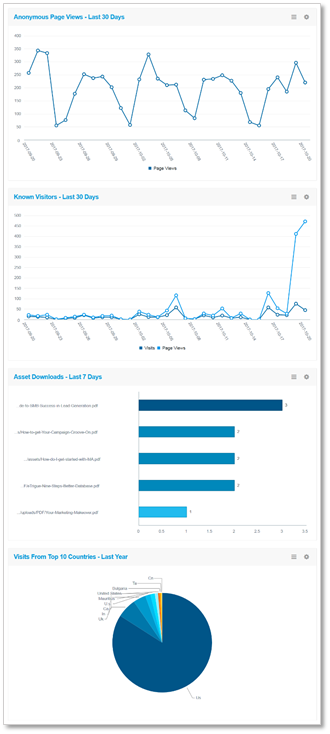 To change the reports being displayed, click on this icon
located in the upper-right corner of each widget. Select the name of the report that you would like displayed from the drop-down menu and click OK when finished.
To rearrange the order of the reports, click on this icon
also located in the upper-right corner of each widget and drag the report up or down to the desired position on the Dashboard.
Note: If you do not see the icons referenced above, then this means that you do not have access to view reports. Please contact the Administrator for your account and ask them to adjust the permissions for your role accordingly.
To view a report in more detail, click on the name of the report to open it. If there is no link for you to click on, then this indicates that you do not have access to the report. Please let your Administrator know so that they can grant you access if needed.
Recent Activity
This section serves as a reminder of the objects that you most recently touched and provides a way for you to skip traditional navigation steps to get to them. A listing of last touched objects can be found within this section along with links that can be clicked that take you directly to those items.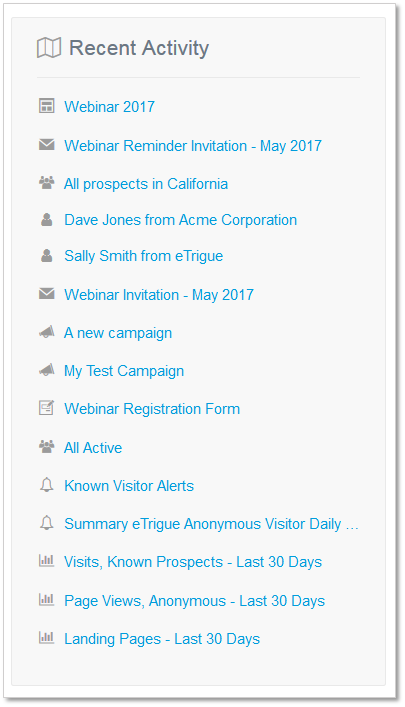 Favorite Reports
For any reports that you have marked as a favorite within the Reports work area, you will see them listed under this section which allows you to get to the reports you care about straight from the Dashboard.



Create New
To create a new object without having to navigate to the corresponding work area first, click on any of the objects listed which will take you directly to the builder for that object.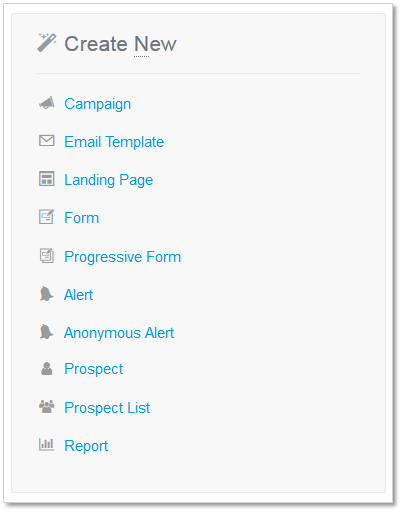 Frequently Asked Questions
Does each user have their own personal Dashboard?
Yes, all DemandCenter users are given their own personal Dashboards. Changes to a Dashboard only affect that user's Dashboard. The changes do not affect other user Dashboards.
How many reports can I have on my Dashboard?
At this time, users can have a maximum of four reports.
Which types of reports can be displayed on my Dashboard?
Users can display the following report types:
Visits
Visits by Page
Visits/Views Over Time
Asset Downloads
Form Submissions
Landing Pages
Conversions