Introduction
Tracking follow-up down to the salesperson is key to managing effective Marketing campaigns. Understanding how long it takes each salesperson to contact a prospective lead, log the outcome and opportunity value, gives partners and vendors a complete view of the sales process from first touch through final disposition.
We will refer to the above as Lead Alert Responsiveness Tracking. This type of tracking is accomplished through Response Buttons. Salespersons click on these Response Buttons to submit their follow-up, while marketers can measure the responsiveness of the salespersons.
The workflow can be summarized like this:
Marketing Team adds Response Buttons to Alert Messages.
Prospects visit tracked websites, submit forms, and trigger alerts (e.g. lead alerts, form notifications).


Salesperson receives lead alerts, performs follow-up with prospect, and logs their outcome on Sales Rep Response Pages.


Marketing Team reviews collected data through Lead Response Summaries Reports and Scheduled Exports.


If desired, the Marketing Team can add sales performance metrics to Alert Messages for increased visibility.
Getting Started - Part One of (Two):
Add Response Buttons to your Alert Messages.
Go to Alerts > Known Prospect Alerts > Alert Messages.


Under the list of existing Alert Messages, double-click on the Alert Message that you want to add Response Buttons to. If you need a refresher about Alert Messages, click here.


In your Alert Message, click on the TEXT block where you want to insert the Response Button. Your text editing toolbar should appear right after.



Under

Data Blocks and Merge Tags

, use the drop-down to add the

Prospect Details with Response Button data block.



Recommended

: If you are updating an existing Alert Message that already contains the Prospect Details data block, we recommend replacing it with the Prospect Details with Response Button data block.





Getting Started - Part Two (of Two):
Configure eTrigue to use Alert Messages with Response Buttons
When eTrigue asks you to choose an Alert Message, you must explicitly use an Alert Message that contains the Response Button. Below is table that summarizes where you specify alert messages.
| | |
| --- | --- |
| When configuring a lead alert rule... | When configuring a Send Alert Action... |
| When configuring a form... | When sending a snapshot alert... |
Submit Follow-Up on Sales Rep Response Pages
After a prospect triggers an alert message configured with a Response Button, the alert message will be sent to the Salesperson. The salesperson can click on the Response Button to submit their outcome and follow-up details on the Sales Rep Response Page.

The salesperson can provide the following pieces of information:
Response Type: Use this drop-down to choose the outcome of the follow-up. For example: Was a meeting scheduled? Was a voicemail left for the prospect? Was a conversation held with the prospect?


Opportunity Level: Use this drop-down to choose the potential sales amount (in USD).


Sales Notes: Use this text field to make any comments or notes about the follow-up.
Reviewing Response Data
Collected data from Sales Rep Responses are summarized in our Lead Response Summary Reports. The report aims to help provide insight into how well Sales Reps are following up with their prospects/leads. Some questions that the report helps marketing teams address are:
How are the Sales Reps doing overall?
Who are the top Sales Reps? Do these top performers have any tips for low-performers?
Which Sales Reps need help? Are there factors that are causing lack of follow up?
How many opportunities have been identified?
To access this report, go to Reports > New Report > Lead Response Summary.
Anatomy of a Lead Response Summary Report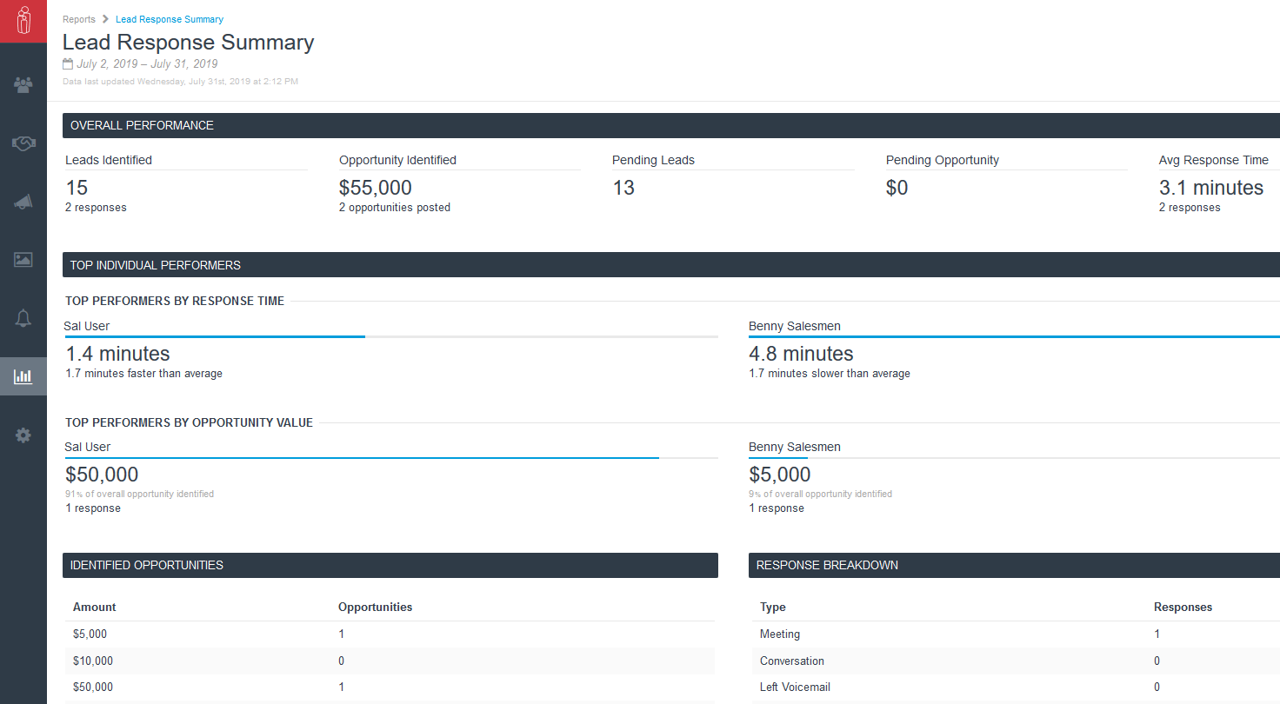 Overall Performance
This section will provide a high level summary of:
Leads Identified (number of unique prospects that triggered alerts)
Opportunity Identified (aggregate sum of opportunities in USD)
Pending Leads (number of unique prospects that have not yet been followed-up with)
Avg Response Time (how long it typically takes for a salesperson to follow-up)
Top Individual Performers: This section lists which Sales Reps are following-up the most with their leads.
Identified Opportunities: This section shows the number of opportunities broken down by USD amounts.
Response Breakdown: This section shows the number of responses broken down by type.
Non Responders: This section lists Sales Reps that have the most pending leads (i.e. prospects that have not yet been followed-up with).
Filters and Exporting Reports
On the right hand side, users may define the timeframe for which the summary reports on. Lead Response Summaries can be shared via shareable links and can also be exported in CSV or PDF files.
Add Sales Performance Tracking to Alerts